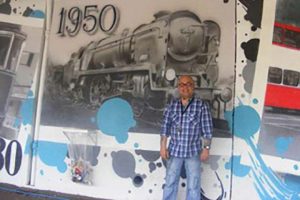 I thought I would send you the mural picture which is now on the downside platform of Pokesdown Railway Station. My father Sid Fagg was a steam engine driver. He was based at Bournemouth MPD and I would imagine many of the London drivers would of known him.
We used to live in the Station House in Boscombe and I have fond memories of those steam engines passing by. I too worked on the railway as a secondman and knew some of the London drivers who frequented the mess room at Bournemouth. I recently met Jimmy Evans and told him of the mural and hopefully, Jim will go and see it for himself. I enjoy the photos of Rueben Hendicott who always has a roll up hanging from his mouth and what a character he was.
When my father passed away, the support my family recieved from his friends on the footplate will always remain close and in particular Driver Fred Holloway, who on his trips to Bournemouth made time to visit my mother.
David Fagg
The number of the locomotive looks to actually be 34027 called Taw Valley. If true, this was also one of the locomotives painted up as the locomotive in Harry Potter. In the end it was not used in the film, but it was kept in that livery for a few years.  Here is a link to the photo 
http://www.flickr.com/photos/16412147@N08/8297481471/lightbox/
Thank you to Lynn & David Coleman and of course David